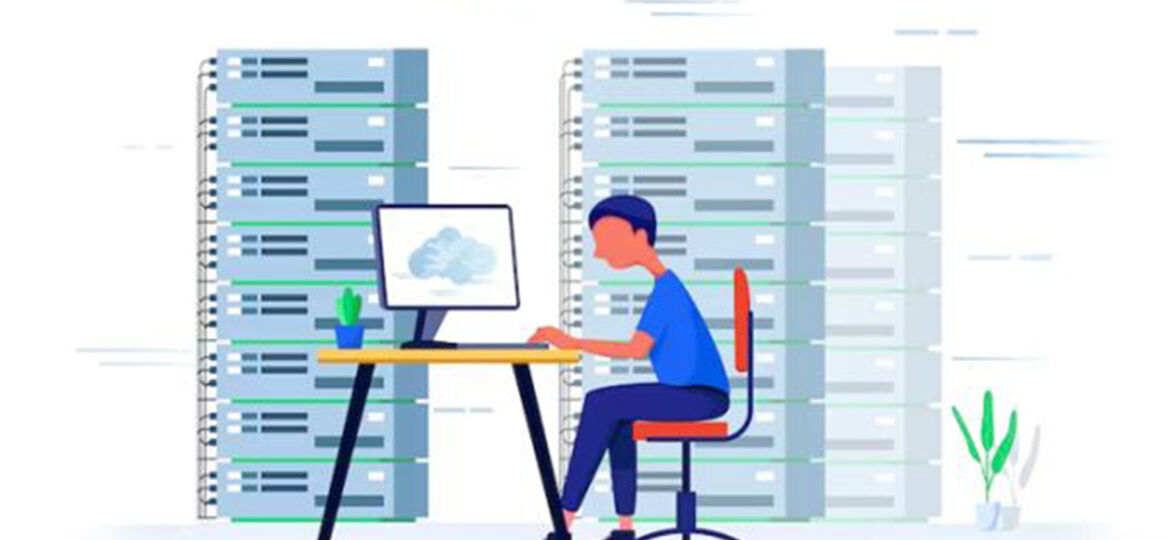 Do you find it confusing when it comes to choosing a web hosting service provider?
Well, it's no surprise because there are more than 300 thousand hosting providers according to FinancesOnline and most of them claim they provide similar features. So, any person can come across such a dilemma when choosing a web host.
Typically, people look for features like uptime, SSL certificate, server speed and so on. Indeed these features are vital but there are many more factors you should consider when choosing a web host.
In this blog, we'll be discussing all those factors, 15 to be precise, to make it easier for you to select a host.
Let's dive into it!
1) Uptime
You can stop scratching your head over what uptime is. We'll concisely tell what it is.
Uptime is simply the time a server is available. Say, your host claims they guarantee 99.5% uptime. This means your website will be available quite a lot of time for the end-users.
So, this is the most fundamental and vital factor that you should keep in mind when searching for a host. In today's world where a lot of people purchase products and services online, it's important to ensure your website is available for them. Therefore, check how much uptime the host is guaranteeing. We recommend you not to choose a host unless they provide a minimum of 99.5% uptime or else you will miss a lot of customers and as a result, your revenue and business growth will be affected big time. Ultimately, this affects your reputation.
2) Hosting Support
This is another important factor that keeps your website up and running. And, by hosting support we mean not merely technical support but expert technical support.
Technical issues arise due to a lot of reason. It's quite normal. But, failing to troubleshoot these issues can affect the availability of your website and this will adversely affect your business. That's why it's essential to check whether your host provides expert technical support with an adept team of server admins who can tackle the technical difficulties efficiently. You might be wondering how you can confirm the level of technical support. For starters, you could examine the reviews of their clients or, if the host provides a free trial or money-back guarantee, host with them and see for yourself. The latter would be the simplest and concrete way.
3) Price
One thing you have to keep in mind is that cheap is not always the best. Therefore, rather than searching for a host providing cheap plans, see whether the host you are looking for offers cost-effective plans. In other words, ensure that you will get what you pay for.
First and foremost, understand your website needs. Things like what type of hosting you require, storage, email accounts and so on. Otherwise, you will end up paying more than what you actually have to pay. You need to have a clear-cut picture of your needs before you start researching the web hosts and their plans. Once it's done, you may analyse the features one of the shortlisted hosts is providing and compare them with other hosts. There will not be drastic differences in the pricing. However, as we said before, do a crosscheck and make sure you are opting for the best. At the end of the day, the final decision is yours.
4) Experience
Experience matters!
Imagine you get tangled in a legal issue and you require a lawyer. You start enquiring and find two lawyers: A novice and an experienced lawyer.
Who do you prefer? Of course the latter, right? That's because you want the best possible solution in the most effective way like everyone wants.
Just like that, experience is key when it comes to choosing a host also because experienced hosts will boast better knowledge and will have the knack to render the service in a way it addresses your pain points and gives a satisfying customer experience. Furthermore, they will most likely update their technical knowledge in accordance with the advancements.
Simply put, the best bet is to opt for an experienced host if you want to have a pleasant user experience.
5) Free Migration
Sometimes people change from one host to another due to various reasons like dissatisfaction with the service, security concerns and so on. During this time all the data needs to be migrated to the server of the new host. Server migration is not an itsy-bitsy task. It requires expert hands to migrate data without causing noticeable downtime.
So, if you are migrating like this, check whether the new host provides free migration. Getting a service that requires technical knowledge for free of cost is always a plus point. Moreover, it lets you save a little bit of money.
6) Operating Hours
Technical issues do arise at times. However, the trick is to solve it as soon as possible.
But, what if your website come across a problem at 2 in the morning when you get a good inflow of foreign traffic?
That's why it's important to ensure your host actually operates 24×7 and the technical team provides round-the-clock server monitoring and support. As a website owner, it's your responsibility to ensure your website is always available for your customers. As we mentioned before, when your website is not available, there will be repercussions from your business perspective. To be precise, your customers will go for an alternative website.
The bottom line is, make sure your host literally operates 24×7 or you are most likely to suffer losses.
7) Server Optimization
Server optimization is simply the technique of enhancing or maintaining the performance of a server which ultimately enable the hosted websites to load fast and operate hassle-free. Optimizing the server is critically important in today's digital world because even seconds of lag in the loading time affects a lot. Hard to believe? Well, here are some eye-opening stats.
A study by the Aberdeen Group found that the E-commerce conversion rate reduces by 7% when page response is delayed by 1 second.
In another survey by Unbounce comprising 700 consumers, 70% of them responded that their purchase decision is influenced by page speed.
The bounce rate increases in tandem with the load speed. Here is an infographic by Section Group to justify that claim.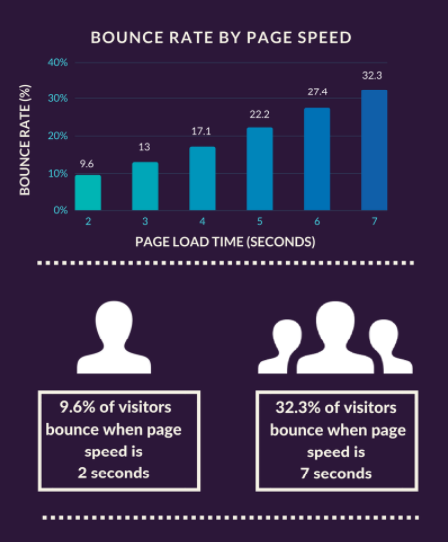 So, your SEO results are also bound to get affected because bounce rate is the 4th best ranking factor according to Semrush.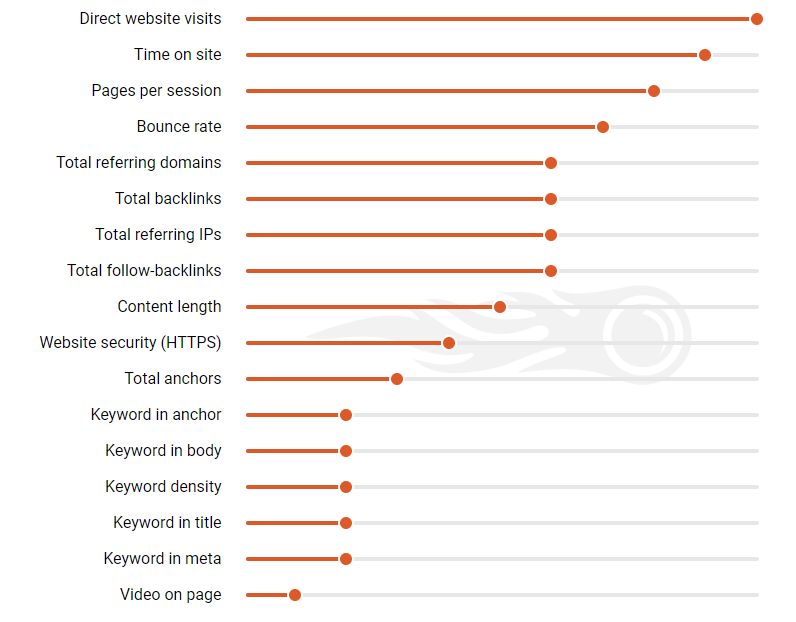 Moreover, users tend to visit more pages on your website if your website is fast enough. Have a look at another graph by the Section Group.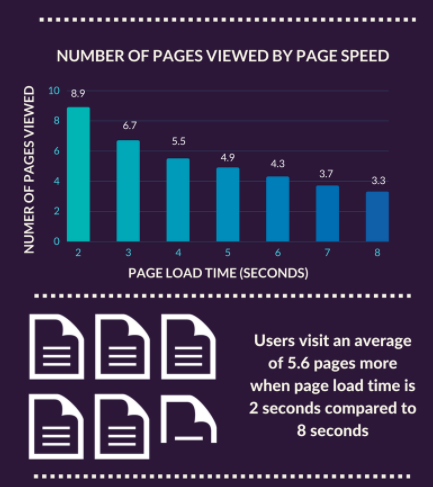 The above stats underline the importance of site speed. Though site speed can be improved by some tweaks on the website, it can also be enhanced by a great deal through doing server optimization.
Ergo, make sure the host you are looking for does server optimization periodically. You could ask about this to their customer relation team or any concerned authority before you get started.
8) Secure Hosting Environment
Online attackers are constantly on the search for vulnerabilities to breach and hack data. Without proper security measures and encryptions, your and your consumers' confidential data are always at risk of being hacked. Statista reported that the data of over 155.8 million individuals were exposed during the year 2020 that too only in the US. If we consider the whole World, the figures would be astronomical.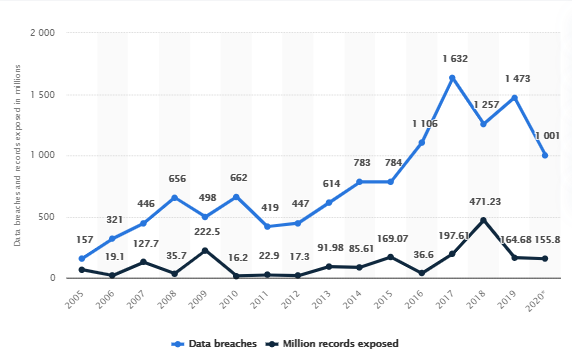 If you look back, you could also see a lot of stories on the data breach.
According to Varonis, the California Department of Motor Vehicles underwent a data breach not so long ago, as a result of a ransomware attack at their billing contractor's end.
Here is another cyber attack story. As per a study by IdentityForce on data breach cases, Socialarks – A Social Media Management Company, experienced a data leak that resulted in the exposure of the personal details of 214 million users from Facebook, Instagram, and LinkedIn.
Similarly, many cases happen every year.
In essence, this shows that it's of utmost importance to have strong security features for your website. For that, your host should have a good security infrastructure, timely update the security software, and install security patches at the right time. So, be sure the server of your host has strong security.
9) Money Back Guarantee
As said earlier, it can be confusing to select one host since almost everyone provides great features. Even if you shortlist some, you will have a second thought about availing of their service. Won't you? The reason is that we have not experienced their service previously and we are uncertain whether their claims are true.
Imagine you are convinced by the features a host provides but you don't have the confidence to go ahead with them. Then you notice that they provide a money-back guarantee. Now that's a confidence booster. That makes you try out their service without any tension because you could get back the money in case you aren't satisfied.
So, during your research, bear this in mind and keep this on your checklist.
10) Data Backup & Recovery
Losing data can be painful. We are pretty sure you have experienced data loss at least once in a while on your mobile or laptop. Well, if you haven't suffered it yet, know that it's worrying. It not only puts us in a state of panic but also saddens us.
From photos and videos to personal data and database files, everything is equally important. And, as a website owner, you should see that every data in your website is backed up safely because data loss can happen at any time. An unexpected hardware failure is enough to cause data loss. It can also be a surprising cyberattack that results in data loss. Be it any way, loss of data can adversely affect your business financially as well as from a reputation point of view.
This is why backing up the data is essential and significant. When it comes to websites, backing up of data can be technical and it mostly will be difficult and risky to do it by yourself. Even data recovery can also get quite technical and involves risk. So, the best bet is to ask your host whether they provide data backup and recovery. Most of the hosts provide this service and offer expert data backup and recovery service because we are very well aware of the consequences of data loss.
To be precise, say no to the host if they do not provide data backup and recovery services.
11) Easy To Use Control Panel
Unmanaged hosting often comes with an interface through which the website owners can manage their website. Without such software, it'll be pretty hard to manage your website especially if you don't boast much technical knowledge and coding skills.
cPanel is one such software that's provided in the hosting package by the majority of the hosts. It's one of the oldest control panels and is used extensively by many hosts. It literally makes the job of website management much convenient. What makes cPanel different is the easy-to-use interface it offers. In total, cPanel furnishes the user with a user-friendly experience even if the user has not used a control panel priorly.
In short, it would be better if the host you are looking for provide cPanel. Every host typically specifies it on their website. For instance, check our website. You could find the mention of cPanel in our 'features' section.
12) Easy Installation Of Application
When you host your website, you will require a lot of supportive applications. To begin with, you will need a website builder to develop your website. Likewise, you might require various other applications such as Digital Marketing tools, security-enhancing tools, website themes, billing automation tools and so on which ultimately make your website bigger and complete.
If you are a novice in website management, it's obvious that you will not have a concrete idea of the installation and usage of the aforementioned applications. To put it another way, you ought to be able to leverage these applications without having to waste much of your time and trouble your mind. Precisely saying, installation of these applications should be easy for you in a way you will not require help from the host or any other person.
If the host is providing cPanel, then you may check this particular point from your checklist because as we said earlier, cPanel is user-friendly. As a matter of fact, you could install applications in cPanel with a few clicks.
13) Helpdesk & Billing Portal
As mentioned earlier, technical issues can potentially arise at times but they can be solved. Tackling such issues before they become aggressive or cause more trouble is the essential solution here.
So, make sure your host's technical team is always there to assist you regardless of the time. Check whether their helpdesk is flexible as in whether their helpdesk has multiple channels like ticket system, email, phone call and live chat. This way if one channel doesn't work due to some reason you could reach out to them through an alternative method. Also, be sure that their response and action are quick.
But how can you check this without buying their hosting plan?
Well, here also you could try diving into their customer reviews and check whether there is any feedback from a customer regarding their technical support. If you know someone who had previously availed of their service, ask them. Another way is to try your host's service if they provide a money-back guarantee.
Similarly, your host should have a billing portal with an easy-to-use interface. Also, make sure your host provides expert support with regards to billing.
14) Domain Registration
As you might be aware, registering a domain is the first step of an online venture. So, before you host, you need to register a domain. If you are wondering what a domain name is, it's simply the name of your website. For example, https://www.techbrein.com/
So, why should you keep the domain and website under the same company? This has been one of the most discussed topics. However, keeping domain and website under the same roof has become a common practice today. The reason is simple. You can manage both the domain and website through one account and this negates the hassles. Also, if you are lucky enough, some hosting companies might give you a domain either for free or for a discount.
So, the proverb 'don't keep all your eggs in one basket doesn't apply here. As far as hosting and domain registration are concerned, the ideal way is to keep it in one place or you can say 'keep all your eggs in one basket.
Therefore, the ideal option is to register the domain and host your website from the same company. If you have already registered your domain with a registrar, you could simply transfer it to the company where you want to host your website.
15) SSL Certificate
Secure sockets layer (SSL) certificate helps secure your website by keeping the data from credentials to debit or credit card details private. You might have noticed while browsing that some websites have 'HTTPS and some have 'HTTP. The former means that the website is protected with an SSL Certificate. HTTPS is also represented with a padlock symbol in the address bar.

Without an SSL certificate, your website will be at a huge risk of suffering a data breach especially in this modern era where hackers are constantly patrolling the internet to find vulnerabilities. Furthermore, HTTPS is a ranking factor of Google since 2014.
Hence, it's important to check whether your host provides it. Some hosts offer free SSL certificates.
Conclusion
Yes, it can be bewildering to choose a host. There are numerous factors to consider when opting for a host. We hope that you are now aware of all those factors.
In a nutshell, opt for a host that guarantees excellent uptime, provides 24×7 expert hosting support, offers cost-effective plans, provides free migration, periodically optimizes the server and, has robust security.
Additionally, make sure they provide a money-back guarantee, include user-friendly cPanel in the package, offer domain registration and provide SSL certificates. Last but not least, ensure their helpdesk has multiple channels to reach them like chat, ticket, email, and phone call.