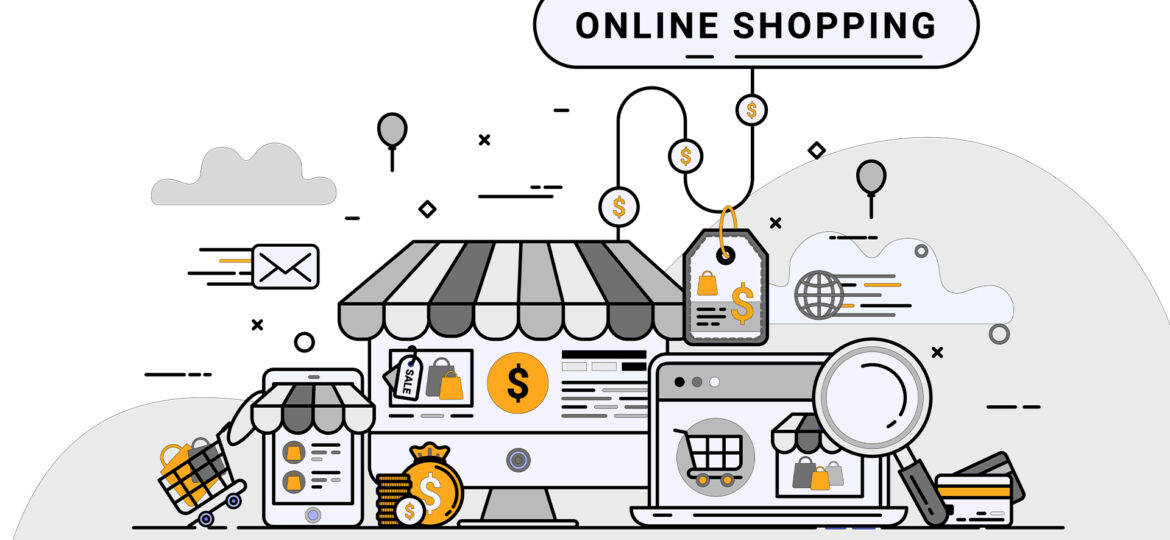 If you still do not have an online store, it's high time that you consult with an E-Commerce website development company and get one because E-Commerce is the new normal.
Suffice to say, the emergence of online shopping has transformed the way we shop. And, with the arrival of the pandemic, E-Commerce has seen staggering growth. In fact, as per a report by Forbes, the Global E-Commerce sales totalled $876 billion in the first quarter of 2021, which is 38% more when compared with the previous year.
That says a lot about the growth of E-Commerce and hints that people are opting for E-Commerce quite often. As a matter of fact, online stores rank fourth when it comes to the top websites visited by customers as per the latest study by Datareportal.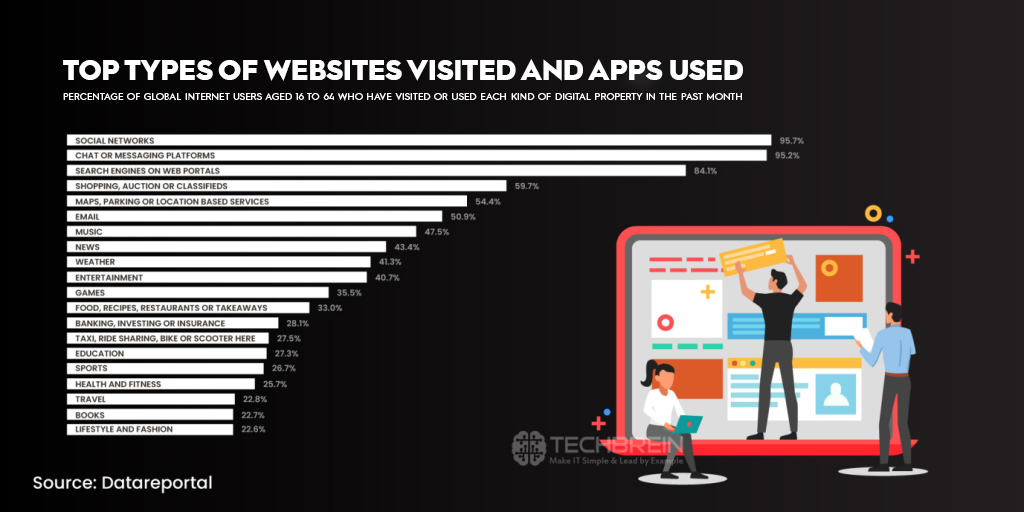 E-Commerce is growing with each passing year, thanks to the advancement of technologies. Today, a lot of businesses sell online, and it's not surprising considering the fact that 61% of the world population use the internet, and 51% of the global internet users shop or browse for products online per week according to Datareportal.
At present, E-Commerce has changed a lot and is continuing to grow. With the rise of technologies like Augmented Reality, Artificial Intelligence, Chatbots and more, E-Commerce has gone to the next level. And since there are more players in the market, every E-Commerce business owner is compelled to step up their strategy to survive in the competition.
Do you own an online store? It's vital to ensure that your E-Commerce store is up-to-date with the latest technologies. In this blog, we will be looking into the latest E-Commerce trends. Understanding these trends and shaping your online store accordingly would pave the way for a better business.
Let's take a detailed look!
Here Are the Trends That You Should Keep an Eye on
1. More Adoption of Augmented Reality
Augmented Reality (AR) is a technology that allows you to view how a product looks in a real environment.
For instance, you are shopping for a dining table for your dining room. With AR, you could view how the table you have selected will look if it's placed in your dining room. This can be done by just taking the product in your smartphone and pointing it to the space you want to place it.
Let's take a look at another example. Say you are buying a watch online. If that particular store has AR technology, you could see how the watch you have selected will look on your wrist. All you have to do is show your wrist to the camera.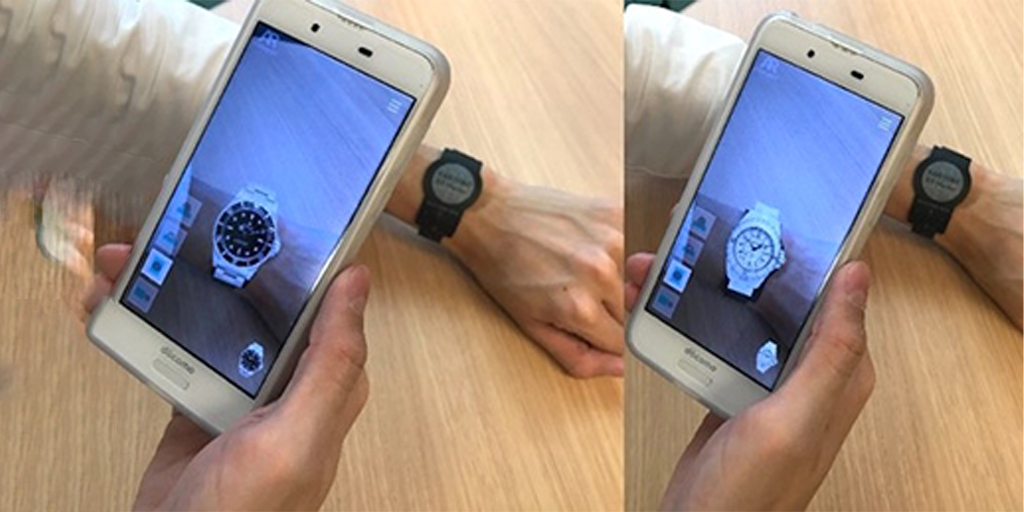 The absence of the facility to try a product in real life is one of the main drawbacks of online shopping. However, AR negates this problem and allows customers to improve their shopping experience and make purchase decisions easily.
E-Commerce stores have already started using AR and its adoption is slowly rising. Lenskart is one of the best examples that have AR technology, which allows you to try on the specs virtually.
Customers also love AR and it's quite evident from an AR retail study conducted in the US. The following were some of the findings of that study.
– 61% of the customers said they prefer online stores with AR over the ones without AR.
– 55% of the consumers admitted AR makes shopping more interesting.
– 40% of customers said that they would pay more for a product if they could test it with AR.
– 45% of the shoppers said AR saves them a lot of time and 68% said they are ready to spend more time if they could use AR.
These findings clearly show that customers are really fond of Augmented Reality. Who wouldn't be?!
So, if there is scope for your online store to integrate AR, go ahead with it before it's too late.
2. Voice Search Is Rising

Voice searches are making online shopping a lot easier.
With the emergence of voice assistants like Google Assistant, Alexa, Siri, Cortana and more, voice searches have also increased. When such voice assistants can help us with almost everything, it isn't surprising that more people are using them nowadays. A report by Datareportal states that 23% of the global internet users use voice assistants to search for information.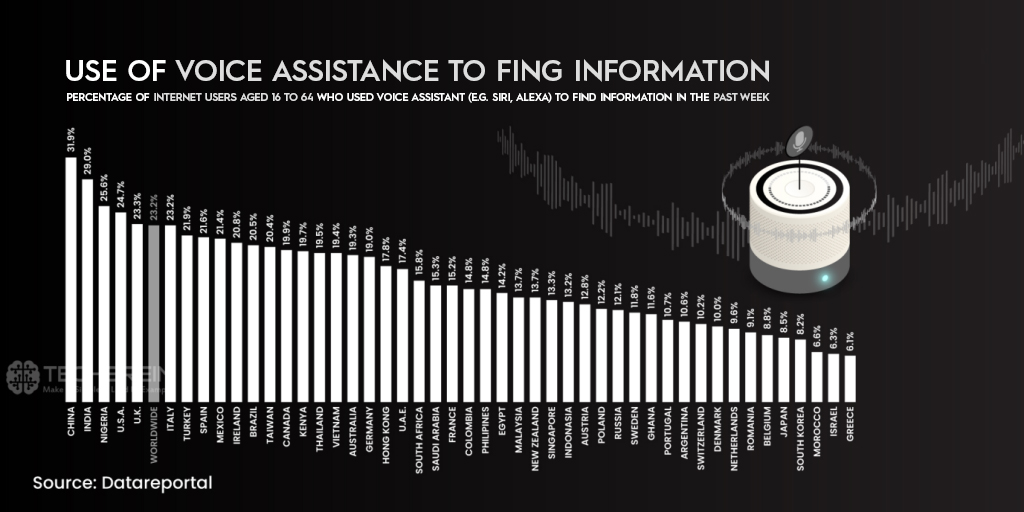 The adoption of voice assistants is expected to rise in the coming years. As per Statista, it's estimated that the value of the smart speaker market will reach a massive $35.5 billion by 2025. How can it not reach that range when people find voice commands so convenient?! In fact, a study by SocialMediaToday found that 61% of the people find voice search useful when their hands or eyes are occupied.
All these stats emphasize the importance of voice searches. So, make sure your online store has a voice search console and is optimized for voice searches. Doing these can drive more customers to your E-Commerce store and multiplies the convenience for customers when they shop.
3. AI Is Getting Better and Better
Artificial Intelligence (AI) has been around for a while, helping deliver a personalized experience for the customers. And, this technology is continuing to evolve.
Today, AI can do a lot more than welcoming an online visitor. With AI, your E-Commerce store could suggest apt products or services for the customers based on their location, language and browsing behaviour. Altogether, it personalizes customers' shopping experience and they get a feeling that your brand values them. This is something physical stores can only dream of.
However, the interesting part is that AI is evolving to let your online business find the right customers. This will allow you to save a lot of time you usually spent on market studies, developing graphs and more. Also, it makes your business much smarter and paves the way for better revenue.
Another trend that is gaining popularity is AI-Powered content generators like Jarvis, Longshot, Shortly and more. Tools like these assist to develop content automatically upon giving basic inputs. This means that the content on the product pages can be automatically generated and this ultimately saves a lot of time and cost spent on content.
A good per cent of online business owners have already started to adopt AI. Maybe that's why SEMrush predicted that the AI market will skyrocket to $190.61 billion market value by 2025. If your online store is not powered by AI, then it's high time that you rethink your E-Commerce strategy.
4. More Intelligent Chatbots

Customers are impatient that they want their enquiries to be addressed as soon as possible and that is why having chatbots, which provides quick replies, is integral for an online store. Having said that, Chatbots are not intelligent enough to provide 100% accurate replies. However, this is changing. Chatbots are being more human nowadays, they are becoming more intelligent, all thanks to the evolution of AI.
This can give customers a sense of chatting live with a customer support executive, which offers better satisfaction. In fact, live chat has an 85% satisfaction rate as per an analysis carried out by Zendesk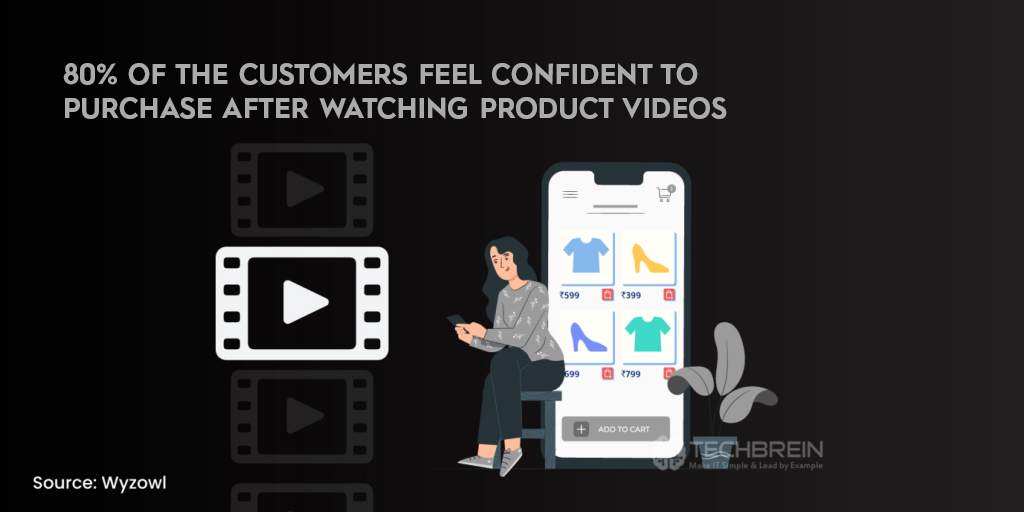 As per this study, product demos work the best. 69% of the customers told that products demos help them make the purchase decision.
From these stats, it's quite clear why videos are now trending in the E-Commerce sphere. So, start developing videos of your products and add them to your product pages. When making videos, do not make them for the sake of it. Instead, create them in a way they are engaging and easily understandable for the audience or you wouldn't be able to reap the benefits to the fullest.
5. B2B E-Commerce
E-Commerce was all about B2C back then. However, things are changing now! B2B E-Commerce is growing as well.
The B2B businesses have also started to deploy E-Commerce stores to facilitate distribution and wholesale selling. This means that B2B businesses are now using phone calls and fax less often.
This is actually a win-win situation for both buyers and sellers since it saves a lot of time on processing the orders and paperwork. Simultaneously, businesses could provide a satisfying experience for their customers. Maybe, it was the pandemic that turned out to be the wake-up call for all businesses to go online, as contactless delivery and payment systems are essential to maintain hygiene.
Another perk of going online is insightful data and analytics regarding the customers and their orders. This can give the business owners a complete overview of their business activities. Aren't these reasons enough to shift to the digital sphere?
Stats also speak a lot about E-Commerce adoption in the B2B industry.

As per a study by BigCommerce, 61% of B2B transactions are now online. It's also forecasted that the B2B E-Commerce market will hit trillions by 2024.
6. Headless E-Commerce

Headless E-Commerce has become a buzzword in today's digital sphere!
First of all, let's make it clear what Headless E-Commerce is.
Well, headless E-Commerce is an architecture in which an online store's frontend (theme, font, colours, menus, etc) and backend (server and database) are disintegrated.
In normal E-Commerce stores, the frontend and backend are interconnected. Therefore, if you want to bring changes to any element in the frontend, you would be required to tweak the backend as well. This can slow down the process.
On the other hand, headless E-Commerce brings you a way by which you could change the frontend without manually adjusting the backend.
Now, you would be thinking about how the backend changes automatically, right?
Well, the frontend and backend are interlinked here with an Application Programming Interface (API), which is an application that facilitates communication between two programs.
In short, adding a product or modifying the content can be done relatively quick in headless E-Commerce and maybe that's why it's trending at present.
7. Omnichannel Approach

Omnichannel E-Commerce is a strategy that aims to provide a seamless and consistent shopping experience for customers regardless of which device they are using.
To make it more clear, customer's shopping experience would be consistent whether they access the website from a smartphone, laptop or tablet. This means if you deploy an omnichannel strategy, a customer could shop with you from any device yet feel equally satisfied. Do customers actually shop from multiple devices? Well, the stats say so.
According to a survey by Harvard, 73% of the customers stated they use multiple devices for online shopping.
Omnichannel E-Commerce is also said to be beneficial from a business point of view in terms of customers retention, profit and maintaining customer value. These are evident from a study carried out by Aberdeen.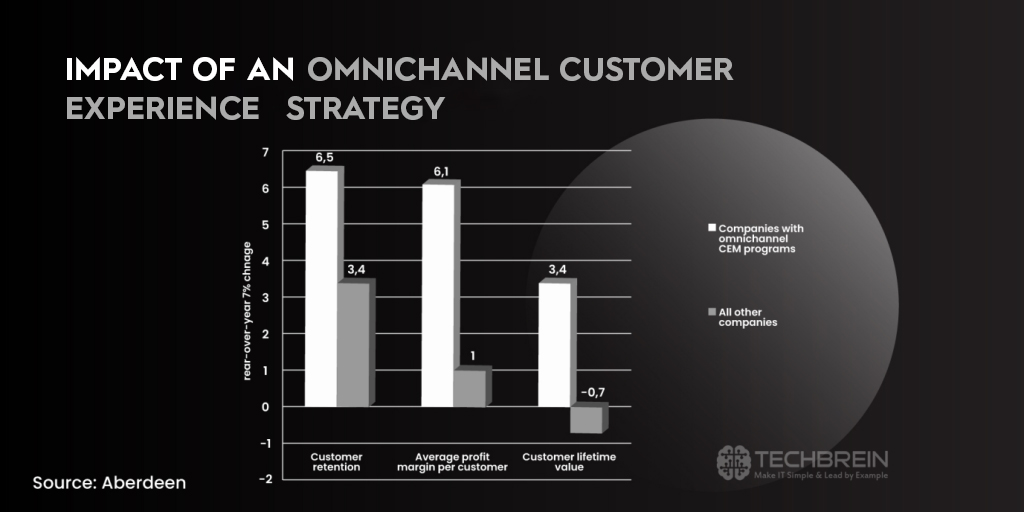 Therefore, optimise your E-Commerce store for every device. Make sure the interface is consistent across all the devices. Hopefully, you will see the results in the near future.
8. One-Click Purchase Is Becoming Popular

Customers want their purchases to be quick without any interruptions. They are impatient like I said before. They can even abandon a shopping cart if they find the payment process is too long. Can't believe it? See for yourself below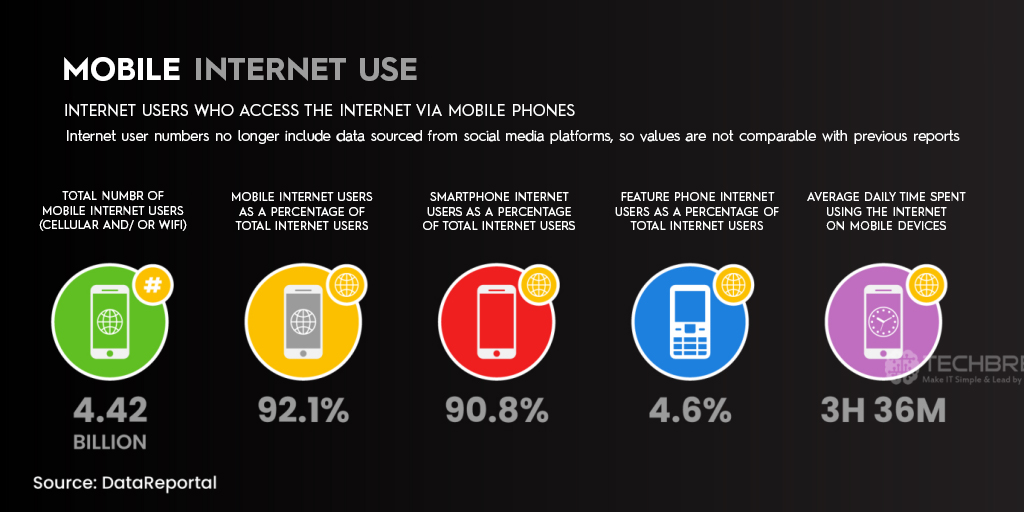 This is where the significance of one-click checkout lies. Even in the stores that claim to have a one-click checkout system, it'll take multiple clicks to complete the purchase. So, is a one-click purchase a real thing? Yes! And, it's gaining popularity.
For example, the team at Fast has developed a one-click purchase system, through which customers can make a purchase with just one click. Yes, you read it right! Likewise, there are many more tools that could be integrated into an E-Commerce store.
So if you plan on developing an online store or already have one, consider adding this feature. It's surely going to satisfy your customers.
9. Mobile-Friendly Online Stores

As said before, Omnichannel E-Commerce is gaining popularity and making stores mobile-friendly is one piece of the omnichannel puzzle.
However, the rise of mobile-friendly online stores is worth mentioning specifically because you would not be able to digest its insane statistics.
As per a recent report by Datareportal, it's said 92% of the total internet are mobile internet users. 92%
Furthermore, the same study shows that 26% of the internet users had bought something via mobile in one week of July 2021.
That explains why mobile-friendly E-Commerce stores are trending at the moment. Furthermore, these stats underline the significance of ensuring your online store is mobile-friendly.
If you haven't optimized your online store for mobiles, get it done as soon as possible or you'll be missing out on a lot of sales. Developing an application corresponding to your store will also be a great idea. So, make sure to consult with an E-Commerce application development company. Do not forget to tell them to make the design and interface consistent with your online store because bear in mind that the omnichannel strategy is a trend now..
Conclusion
Since the inception of E-Commerce, it has been constantly evolving and more businesses are opting for it. This is why a report by Nasdaq predicted that 95% of the global purchase will be online by 2040. For E-Commerce owners, it's vital to move along with the evolution of E-Commerce to have a better edge in the market.
The above-mentioned trends are the current trends in E-Commerce on which you have to keep an eye. If you find these trends apt for your online store, include them. Make your store innovative because that's what people want.
We could also see new innovations in the forthcoming years with drone delivery being one of them. Swiggy recently published a report stating that they will soon start drone delivery. If that happens, you could see more brands adopting it. Likewise, we could witness more technological magics hopefully in the near future itself.
If you are planning to take your business online, feel free to contact us for any assistance regarding developing an E-Commerce store. At TechBrein, we have a team of experts who are well-versed in popular Ecommerce platforms such as Shopify, Magento & WooCommerce. We can also build a unique Ecommerce solution from scratch if that's what suit your requirement better. Just let us know your requirements and we will furnish you with an online store that is tailor-made for your business. If you have an online store already, and want to make it better, we can help you.